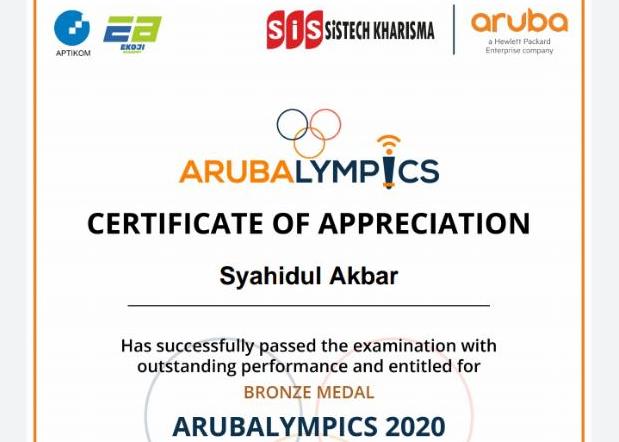 Informatics Engineering Department Student, Universitas Pahlawan won a National Award Charter
Universitaspahlawan.ac.id, UP – Syahidul Akbar, Informatics Engineering (TI) Student Department, Universitas Pahlawan Tuanku Tambusai (UP) won a bronze medal at the 2020 National Arubalympics Olympiad attended by 2160 participants, Friday, August 14, 2020.
"Alhamdulillah, with all our efforts and prayers, I have won this medal, hopefully in the future, I and other friends from the Informatics Engineering Department can improve their achievements again," added Syahidul to the Universitas Pahlawan Public Relations team.
According to Novi Yona Sidratul Munti, M.Kom, what has been achieved today is the hard work of the team that supports each other, and the results of the training to learn the material provided and solve the questions carefully.
"I and the Head of Department, Deddy Gusman, M.Kom participated as lecturers' representatives and there were four students, namely Syahidul Akbar, Islahur Rahmat, Khairul Azhar B, and Dewi Aprianti," the Secretary of the IT Study Program added to the Universitas Pahlawan Public Relations Team.
Activities carried out in order to improve and develop link-and-match initiatives between universities and the industrial world, Aptikom in collaboration with Aruba (a Hewlett Packard Enterprise) and Ekoji Academy took the initiative to organize the Arubalympics 2020 program.
This activity is an olympiad in the field of information technology held online by Arubanetworks, a subsidiary of Hewlett Packard Enterprise (HPE) headquartered in Palo Alto, California, America. Each team from the University was attended by 2 lecturers and 4 students.